Regular price
Sale price
$24.00 CAD
Unit price
per
Sale
Sold out
Description
Ouija Planchette Cut Out Wooden Dangle Earring
Embrace your inner spiritualist with these Planchette Cut Out Wooden Dangle Earrings! Made from high-quality, hypoallergenic materials, these earrings feature a delicate cut-out design that resembles a Ouija board planchette. Whether you're a believer in the paranormal or just love the unique aesthetic, these earrings are sure to make a statement.
Lightweight and nickel-free, these earrings are gentle on even the most sensitive ears. Perfect for any occasion, these earrings add a touch of mystical energy to any outfit. Get ready to channel your inner mystic with these Planchette Cut Out Wooden Dangle Earrings!
Tags
#mystical #spiritual #paranormal #ouijaboard #witchyvibes #occult #mysticjewelry #uniquejewelry #woodenearrings #hypoallergenic #nickelfree #lightweightearrings #earringsoftheday #fashionaccessories #shopsmallbusiness #spookyvibes #witchythings #witchyfashion #gothjewelry #gothstyle
Share
View full details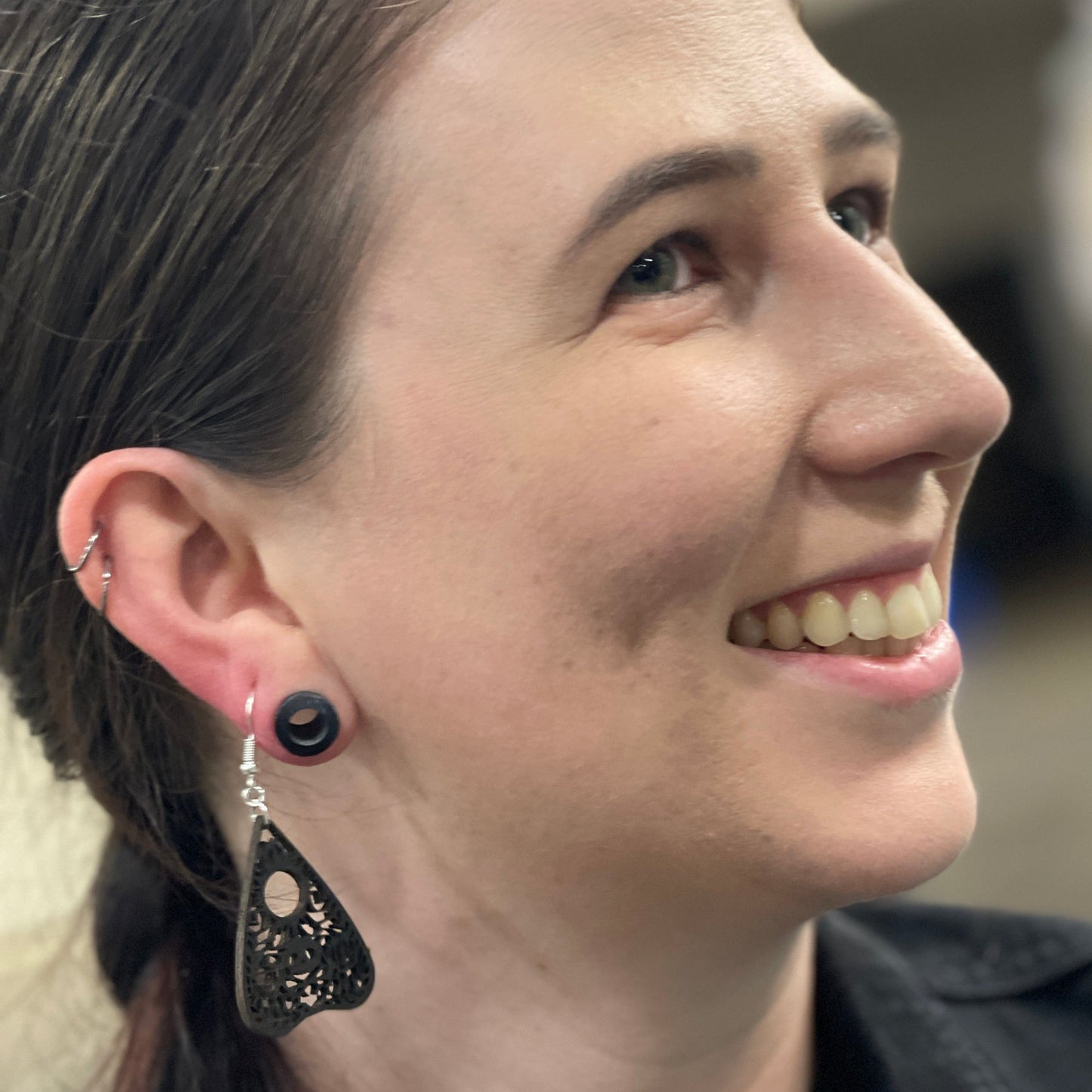 "If you dream it, we will make it an earring."
Size

Length: 1.5 in

Width 1 in

Drop length 1.75 in

Weight: .3 oz

Highlights

* Extremely lightweight

* Hypoallergenic, nickel-free

* All earrings are made from surgical steel

* Carefully cut from Birch for both beauty and strength

* Hand-painted and assembled

* Lifetime replacement for the cost of shipping

Material

These earrings are wooden and made from Baltic birch. We hand paint the earrings with oil paint . As with all of our earrings they are made from surgical steel and are hypoallergenic and nickel free.

For more information on How Eco Friendly Wooden Earring Are. Check out this blog post.

Care Instructions

Clean with a damp cloth and store out of the sunlight. For more information checkout this blog post Care of Wooden Earrings.
Eco- Friendly
We understand that product material, packaging material, and production plays an important role in reducing waste and protecting our environment.
Product Material
Our product material is: Biodegradable, Compostable, Non Toxic, Organic, Plastic-Free and Vegan
Packaging Material
Our packaging material are recyclable, biodegradable, compostable, plastic-free, and promote zero waste. .
Production
Our product production is: Carbon neutral, Ethnical sourced, Sustainable sourced.
We're committed to providing sustainable solutions that meet your needs while minimizing our impact on the planet.
These earrings are hand-painted, so each pair is unique and may vary slightly in color and design. The colors used in the painting are vibrant and long-lasting, so you can enjoy your earrings for years to come.